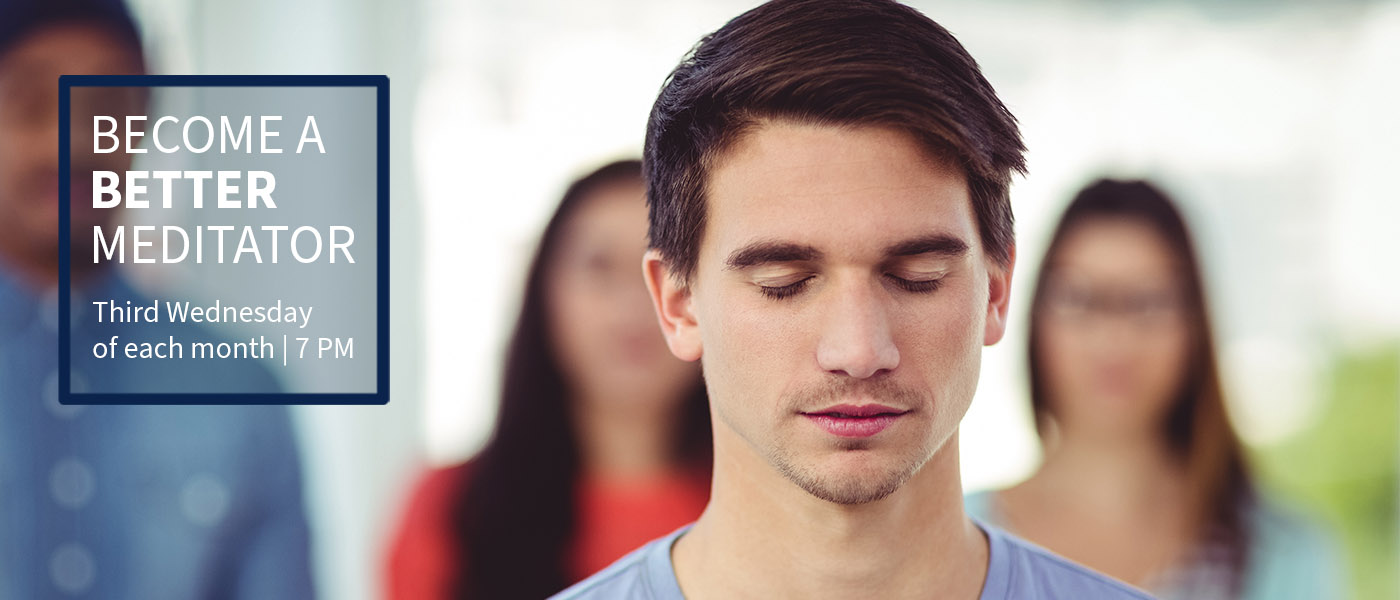 Become a Better Meditator
In this once monthly series we will explore the process of meditation, learning how to create inner and outer conditions that will enhance your meditation experience. For example you will learn things like:
where do I meditate for the best results?
what physical posture do I use?
do I need any special equipment?
how much time to I need for success
how do I set up a shrine in my home?
what books are helpful?
how do I keep from getting discouraged?
how do I reduce my distractions both in the environment and in my head?
how do I know if my meditations are working?
This is the perfect opportunity to have your questions about meditation answered and is one of the main reasons this monthly class is being offered. Please feel very welcome to join in.
For added success, you can incorporate our 30-minute meditation series, offered three times weekly in the morning, mid-day, and after work to help you gain familiarity with the techniques taught and establish or refresh your daily practice.
These classes will be taught by experienced Kadampa Teachers, who also teach our weekly 30 Minute Meditation sessions. They will share practical tips and advice for successful meditation from the Kadampa Tradition and their own experience as meditators. This class is perfect for all levels of meditator, whether you are brand new to meditation or have many years of experience. Everyone welcome.
Get your questions answered
This class is a space where you can get your questions answered and receive encouragement. If you have a question you'd like to ask, please submit it here by the Sunday before class.
Registration
Cost: $10; free for Members and Benefactors
Free for Members and Benefactors: With your membership or trial membership, you will receive all links to regular events (excluding special events with visiting teachers or the Midwest Dharma Celebration, which require separate registration).
Teachers
Dave Ropa

Dave Ropa

Dave Ropa studies on our Foundation program and has been practicing Kadampa Buddhism for many years. Dave is loved for his clear and practical teaching style.

Linda Zoesch

Linda Zoesch

Linda Zoesch is on our Foundation Program and is a sincere and experienced practitioner, student, and meditator. She brings a kind heart and a gentle approach to her teachings, making them easy to understand and apply to daily life.

Lowanna Mobley

Lowanna Mobley

Lowanna Mobley has been a longtime student of our Foundation Program (FP), where she also serves as our FP Monitor. She is known for her enthusiasm and loving nature, bringing humor and genuine insight to her teaching.