Date
Wednesday October 13 2021
Expired!
Heart Jewel with Lamrim Meditation
This one-hour practice typically is held Wednesdays from 5-6 pm and Fridays from 12-1 PM, but dates and times can vary. You are welcome to attend in person. Online registration is available if you would like to attend by livestream.
Livestream Registration
A special Guru yoga of Je Tsongkhapa combined with the condensed sadhana of his Dharma Protector and a short guided mediation on Lamrim. This puja includes two practices revealed by the Wisdom Buddha Manjushri. The first is a special Guru yoga in which we visualize our Spiritual Guide as Je Tsongkhapa, who himself is a manifestation of Manjushri.
By relying upon this practice, we can purify negativity, accumulate merit, and receive blessings. In this way, we will naturally accomplish all the realizations of the stages of the path of Sutra and Tantra, and in particular we will attain a very special Dharma wisdom.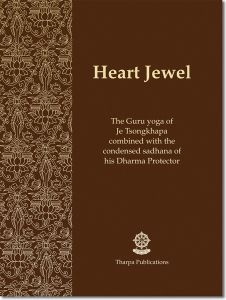 Purchasing your own copy of the sadhana for this puja is not required, but your practice will be enhanced if you can follow along.
You may purchase the Heart Jewel sadhana at this link.