Date
Friday November 18 2022
Expired!
Medicine Buddha Puja
Medicine Buddha represents the healing power of all Buddhas. By relying upon Medicine Buddha we can heal the inner sickness of our delusions as well as the outer sicknesses of illness. We can engage in this practice on behalf of ourselves, or on behalf of others who may be suffering. (1 hour)
You may attend in person as a walk-in.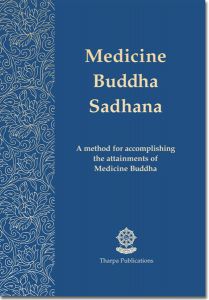 Purchasing your own copy of the sadhana for this puja is not required, but your practice will be enhanced if you can follow along.
You may purchase the Medicine Buddha sadhana at this link.