Livestream Monday Nights
Living From the Inside Out: Practical Solutions for Difficult Times
Everybody wants to be happy and we look for it in every area of our life at work, in our relationships, and in our hobbies and social calendar. However, in our pursuit for happiness, many people find just the opposite: we feel unhappy, depressed and unfulfilled. Sometimes it feels like we've done everything right: we've got the job, success, car, house, money, family and yet these things did not bring the happiness we thought they would. Through teachings and guided meditations, Gen Gomlam will help us explore how we can all cultivate an inner source of happiness that doesn't depend upon external things. In this way, we can be reliable and authentic source of happiness for ourselves and others.
NEW! Looking to connect with others? Check out our Gathering Space.
Upcoming Topics
May 4, 11, 18 (no class May 25) | Silencing the Inner Critic & Connecting with Our Pure Potential
Learn why we are so hard on ourselves, how to identify yourself correctly, and how to "tune in" and stay connected to your pure potential (real self).
June: 1, 8, 15, 29 (no class June 22) | Creating the Life You Want
Learn how to integrate these teachings and meditations into busy daily life and how to really live from the inside out and develop pure confidence in yourself.
Text for the class
Gen Gomlam will be teaching from the text How to Solve Our Human Problems, which is available at this link.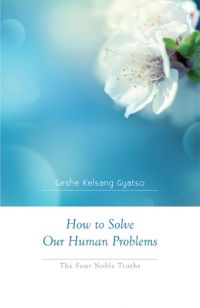 If you are in Madison, we can arrange a no-contact pickup of this book. Just email [email protected] to make arrangements.
Registration Details
When you click Register, all dates with open registration will appear.
Our community has moved online! Please review our terms and conditions before registering. Here are some helpful tips for getting the most benefit from our livestream classes. Please note that registration closes one hour before each class starts to allow for time to get people the link in a timely manner and prepare for the livestream class.
A livestream link is available 72 hours after the class for everyone who registers.
Cost: $10 per class; free for Members and Benefactors!
New to online classes? Find out about introductory offers.
Register in 3 Easy Steps!
1. Click the Register button.
2. Select a date, follow the instructions and make your payment. (Members, enter your member code) You will be taken to a PayPal page where you can use a credit/debit card or your PayPal account.
3. Watch for the livestream link to be emailed 45-60 minutes before class starts. (If you do not receive the link, email [email protected].)
Sold out!
Teacher
Gen Kelsang Gomlam

Gen Kelsang Gomlam

Gen Kelsang Gomlam is the Resident Teacher at Kadampa Meditation Center Madison and Venerable Geshe Kelsang Gyatso's representative in Madison. She has been studying, practicing and teaching Kadam Dharma for many years. Gen Gomlam's heartfelt and practical teachings are presented with warmth and humor, making them accessible to everyone.