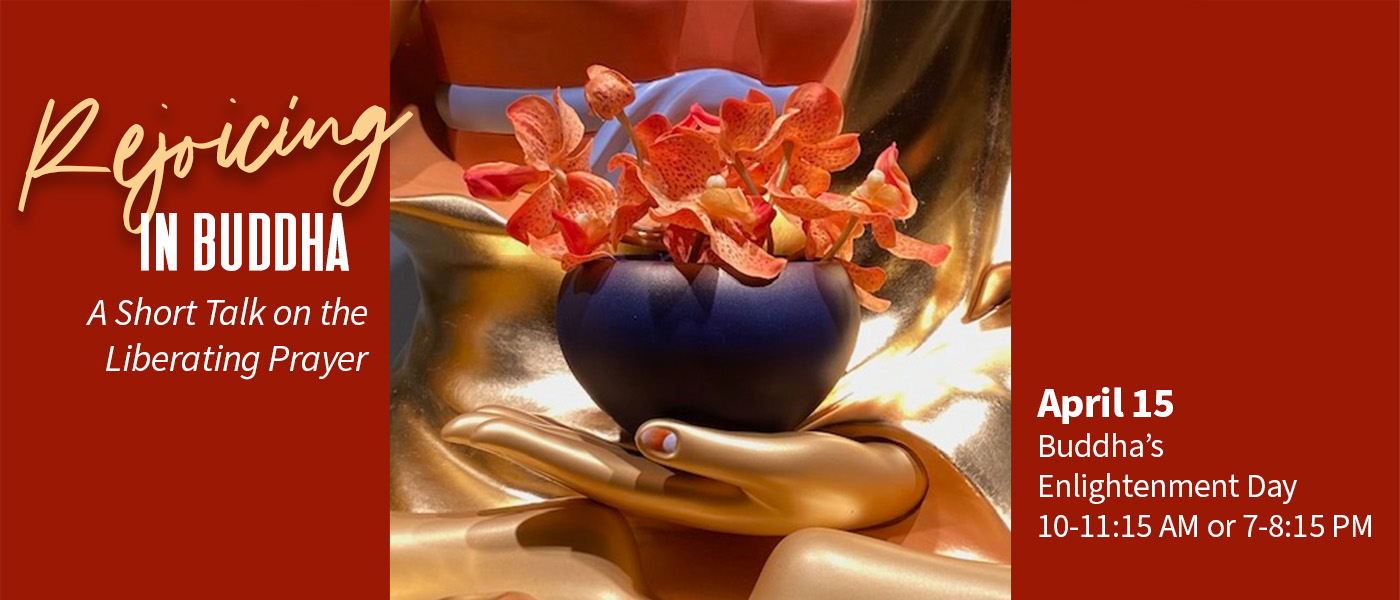 Rejoicing In Buddha: Short Talk on the Liberating Prayer
Special Talk for Buddha's Enlightenment Day
In this special class, open to everyone, Gen Gomlam will give a short talk about The Liberating Prayer, as a way to remember Buddha's kindness and feel a close connection with him in our life. This prayer is like the signature of Kadampa Buddhism and adds gentle inspiration to our classes, retreats and special events. Venerable Geshe-la has said that it "contains the essence of all Buddhas' teachings of Sutra and Tantra." Everyone is welcome to celebrate with us!
April 15th marks the anniversary of Buddha Shakyamuni demonstrating the attainment of enlightenment in 589 B.C.E. This is an extremely important day in the Buddhist calendar because our actions are 100,000 times more powerful than on other days. What a wonderful way to remember the supreme kindness and example of Buddha. Everyone welcome!
Registration Details
Cost: $10; free for members and benefactors
Free for Members and Benefactors: With your membership or trial membership, you will receive all links to regular events (excluding special events with visiting teachers or the Midwest Dharma Celebration, which require separate registration).
A livestream link is available 72 hours after the class for everyone who registers.
Please review our terms and conditions before registering. Here are some helpful tips for getting the most benefit from our livestream classes. Please note that registration closes one hour before each class starts to allow for time to get people the link in a timely manner and prepare for the livestream class.
New to online classes? Find out about introductory offers.
Register in 3 Easy Steps!
1. Click the Register button.
2. Follow the instructions and make your payment. You will be taken to a PayPal page where you can use a credit/debit card or your PayPal account.
3. Watch for the livestream link to be emailed 45-60 minutes before class starts. (If you do not receive the link, email [email protected].)
The Buddha's Enlightenment Day talk ticket sales has ended!
Teacher
Gen Kelsang Gomlam

Gen Kelsang Gomlam

Gen Kelsang Gomlam is the Resident Teacher at Kadampa Meditation Center Madison and Venerable Geshe Kelsang Gyatso's representative in Madison. She has been studying, practicing and teaching Kadam Dharma for many years. Gen Gomlam's heartfelt and practical teachings are presented with warmth and humor, making them accessible to everyone.