Sunday Morning Class
Now What? Finding Peace in the New Normal
Now more than ever, many of us are experiencing unsettled minds. This past year, especially, we have had an opportunity to become very aware of the impermanence of things, and the transition into a "new normal" can still feel uncertain and unpredictable.
Through learning to view and respond to things differently we can experience the transformative power of patience in general, and patient acceptance in particular– a vast and profound experience of calm that embraces challenges without being disturbed or harmed by them. It enables us to accept other people, ourself, our life but at the same time have the clarity to move forward.
Join us each week as Gen Gomlam shares meditations and insights from the book How to Solve Our Human Problems to help us transform this uncertainty with meditation and Buddhist wisdom.
CLICK TO REGISTER
Text for the class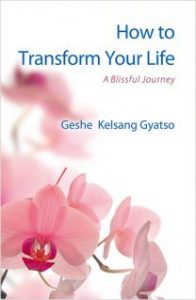 This class will be taught from the book, How to Transform Your Life, which is available as a free ebook which can be downloaded from this link. You do not have to read the book in order to benefit from class, but it can enhance your learning experience.
Registration Details
Cost: $10 per class; free for Members and Benefactors!
Attending via livestream? Find information here. New to online classes? Find out about introductory offers.
Teacher
Gen Kelsang Gomlam

Gen Kelsang Gomlam

Gen Kelsang Gomlam is the Resident Teacher at Kadampa Meditation Center Madison and Venerable Geshe Kelsang Gyatso's representative in Madison. She has been studying, practicing and teaching Kadam Dharma for many years. Gen Gomlam's heartfelt and practical teachings are presented with warmth and humor, making them accessible to everyone.