Sunday Mornings: Becoming a Friend of the World
In-person classes are back! You must pre-register as an in-person attendee; limit is 12 in-person students.
With all the new appearances in our world and the unusual circumstances changing so many of the things we took for granted; now is the time to look more deeply into a way of being in the world that actually benefits everyone.
Buddha taught practical and rare guidelines for living a purposeful life in a busy and hectic world. By applying these powerful methods we can help our family, friends, and our world find real happiness and a better quality of life.
"It is said that there exists a magic crystal that has the power to purify any liquid into which it is placed. Those who cherish all living beings are like this crystal—by their very presence they remove negativity from the world and give back kindness."
– Geshe Kelsang Gyatso
Upcoming topics
May:
5/2 Empowerment Weekend: Purification for a healthy mind
5/9 Perfection of mental stabilization: pure meditation
5/16 Perfection of wisdom
5/30 The result: a new Bodhisattva!!
Text for the class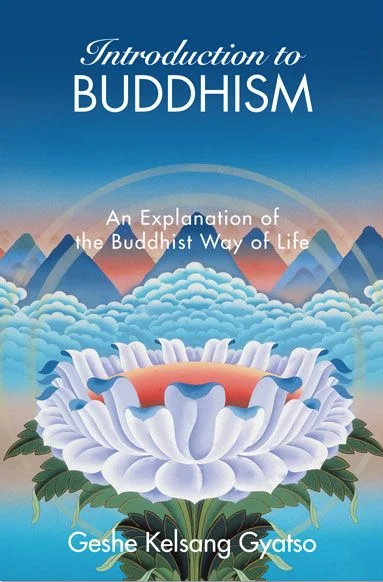 Purchasing your own copy is not required, but your practice will be enhanced if you can follow along. Purchase Introduction to Buddhism here.
If you are in Madison, we can arrange a no-contact pickup of this text. Just email [email protected] to make arrangements.
Registration Details
Cost: $10 per class; free for Members and Benefactors!
New to online classes? Find out about introductory offers.
Registration is available by livestream or a limited number of in-person seats.
The Sunday Program: Livestream Registrant ticket sales has ended!
The Sunday Program: In-person Attendee ticket sales has ended!
Teacher
Gen Kelsang Gomlam

Gen Kelsang Gomlam

Gen Kelsang Gomlam is the Resident Teacher at Kadampa Meditation Center Madison and Venerable Geshe Kelsang Gyatso's representative in Madison. She has been studying, practicing and teaching Kadam Dharma for many years. Gen Gomlam's heartfelt and practical teachings are presented with warmth and humor, making them accessible to everyone.