Sunday Mornings: Transforming Life's Challenges
The tools within Buddhist meditation give us the ability to transform any problems we experience into profound opportunities for personal growth. By relying on these proven methods for changing, we can all become the person we wish to be – more dynamic, confident, kinder, more loving, peaceful, and happier.
In this class, Gen Gomlam will explore how we can use Buddhist meditation to connect to the profound dimensions within our mind, to enable us to face challenges in new and creative ways.
Topics each month
September: The source of all our problems
• what is my problem?
• looking at our problem with wisdom
• learning how to solve our oldest problem
• really changing: getting results
October: Real compassion gives you energy
10/4 – Dispelling myths about compassion
10/11 – How to be compassionate without feeling overwhelmed
10/18 – How compassion actually protects you from suffering
10/25 – Special Celebration: JeTsongkhapa Day: compassion needs wisdom
November: Practical transforming daily challenges
11/1 – Artificial happiness vs. Real happiness
11/8 – Learning to value difficult situations
11/15 – How patient acceptance protects you from suffering
11/22 – Special Holiday Advice: taking gratitude to a whole new level
11/29 – Creative visualization to protect your future
December: Going beyond your limitations
12/6 – No Class: Midwest Dharma Celebration
12/13 – Using your mind to take away suffering
12/20 – Real giving….holiday meditation for everyone!
12/27 – Making every breath meaningful
Text for the class
Gen Gomlam will be teaching from the text New Eight Steps to Happiness, which is available at this link.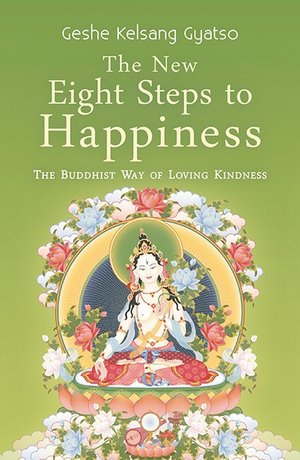 If you are in Madison, we can arrange a no-contact pickup of this book. Just email [email protected] to make arrangements.
Registration Details
When you click Register, all dates with open registration will appear.
Our community has moved online! Please review our terms and conditions before registering. Here are some helpful tips for getting the most benefit from our livestream classes. Please note that registration closes one hour before each class starts to allow for time to get people the link in a timely manner and prepare for the livestream class.
A livestream link is available 72 hours after the class for everyone who registers.
Cost: $10 per class; free for Members and Benefactors!
New to online classes? Find out about introductory offers.
Register in 3 Easy Steps!
1. Click the Register button.
2. Select a class date, follow the instructions and make your payment. (Members, enter your member code) You will be taken to a PayPal page where you can use a credit/debit card or your PayPal account.
3. Watch for the livestream link to be emailed 45-60 minutes before class starts. (If you do not receive the link, email [email protected].)
Teacher
Gen Kelsang Gomlam

Gen Kelsang Gomlam

Gen Kelsang Gomlam is the Resident Teacher at Kadampa Meditation Center Madison and Venerable Geshe Kelsang Gyatso's representative in Madison. She has been studying, practicing and teaching Kadam Dharma for many years. Gen Gomlam's heartfelt and practical teachings are presented with warmth and humor, making them accessible to everyone.