Good Karma Bowl-A-Rama Fundraiser
Saturday, June 23 12-3 PM at Dream Lanes, 13 Atlas Ct, Madison
Without inner peace, outer peace is impossible." – Venerable Geshe Kelsang Gyatso
At Kadampa Meditation Centers throughout the world, thousands of people are learning to develop inner peace and solve daily problems with meditation. KMC Madison serves the people of Madison through providing a place of refuge, calm, and community. This fundraiser helps support our grassroots efforts, both locally and globally. to bring benefit and happiness to every living being. We thank you for your generosity in helping Dharma to flourish!
Please support the activities at KMC Madison and the International Temples Project by participating in our Good Karma Bowl-a-Rama fundraiser. You don't have to be good at it, just join us for guaranteed fun! This event will also include a 50/50 raffle, silent auction, and a fun prize ceremony with the following categories:
Prize for Highest "Scoring" Team
Prize for Top Fundraiser
Prize for Team with the Best Name
Prize for "Inherently" Best Score
Help us reach our Fundraising Goal of $10,000, which will help us continue to expand our classes, programming, and outreach. Thank you for your kindness and generosity!
Ways to Participate
Form a team of four with friends and family. Each team pays *$25 per adult for 2 games, shoes, pizza and soda, and an awesome t-shirt!. Each person collects donations from family,

friends and colleagues to buy a better score the day of the tournament (all's fair for World Peace 🙂 So, no experience needed to play or win! Fun guaranteed!
Register by June 14 to assure you get your own awesome shirt!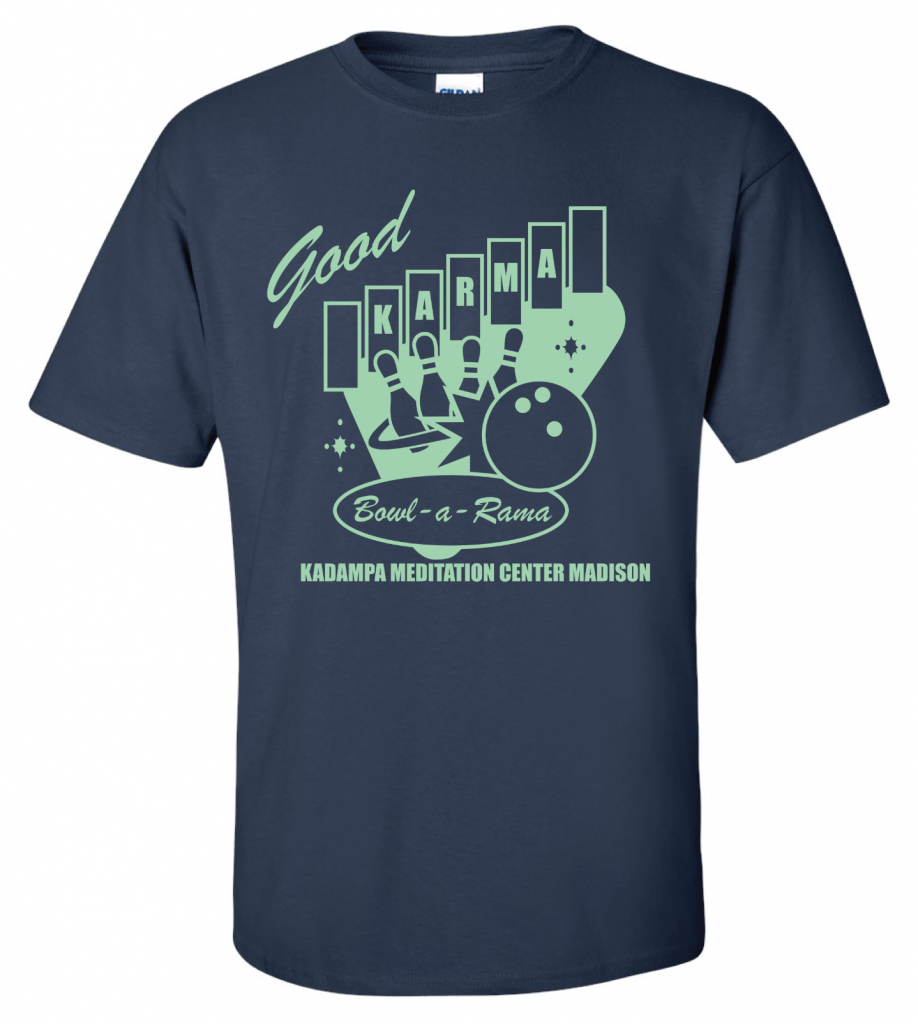 * $12.50 per child (ages 9-15) for 2 games, shoes, pizza and soda, and an awesome t-shirt, $6.25  for kids 8 and under for 2 games, shoes, pizza and soda and and awesome t-shirt (this helps cover cost of shirt).
Sponsor a Bowler

– You can donate a set amount to a specific bowler. Your donation increases peace in the world and also increases your friend's bowling score. For every $20, they win an extra strike and for every $10, a spare is added to their total bowling score.
Event Details
Saturday, June 23 | 12-3 pm
Dream Lanes, 13 Atlas Ct, Madison
Registration Details
All Teams should have one contact person (captain) and team name to help with the registration process. If you are having trouble getting a team together, but would like to bowl, please send an email to info@meditationinmadison.org so we can help you get on a team.
When registering yourself, a friend, or children, use the drop down menus to indicate:
Name of team
Name of team captain
T-shirt Size
Name of Bowler
Within 24 hours of registering, you will receive some e-mail template ideas and a link to our donation page that you can use to help you get started with your fund-raising efforts. This e-mail can be personalized with your own special message and sent to friends and family. We will also update you via e-mail with donation amounts made via web.We look forward to seeing you on June 23rd! If you have any questions, please e-mail us at info@meditationinmadison.org or call 608-661-3211.
Please download this pledge form to keep track of donations you collect in person. You can also add the amounts made via web, which will contribute to your overall score. Closer the event, there will be a form to help you add up your "score" from the donations received.
Sponsor a Bowler
When sponsoring a bowler, please indicate:
Donation Amount (Click on the Donate Button first)
Bowler's Name (Enter this info after clicking "Donate" ,your preferred payment method, and amount. Don't forget to add the name of your bowler before making your payment). If you'd like this to be an general event donation to help with any costs, you can also indicate this in the text box with "Bowl-A-Rama Donation").
Thanks for your kindness and generosity! If you have any questions, please contact us at info@meditationinmadison.org or at 608-661-3211.
Kadampa Meditation Center Madison
2018 at a Glance
May
New! Sunday Morning Series: Learning to Be Happy | Sundays May 6-27 10:00-11:30 AM
Overcoming Distraction | Thursdays May 10-31 7:00-8:30 PM
The Power to Be Happy: Free Meditation and Talk at E.D Locke Public Library, McFarland | Wednesday, May 23 6:30-7:30 PM
International Spring Festival KMC Manjushri | May 25-30
June
How to Rely On a Spiritual Guide: Enjoying a Lifetime of Inspiration (Part 1) Teachings and Meditations  | Saturday, June 2 10:00 AM- 2:45 PM
Special Sunday Morning Series Class: How to Rely on a Spiritual Guide: Enjoying a Lifetime of Inspiration (Part 2) | Sunday, June 3 10:00-11:30 AM
Puja and Party: Offering to the Spiritual Guide Puja with Food Offering (Part 3) | Monday, June 4 5:00-8:00 PM
New! Sunday Morning Series: Learning to Be Happy | Sundays June 3-24 10:00-11:30 AM
Dealing with Loss | Thursdays June 7-21 7:00-8:30 PM
Just Meditate | Saturday, June 9 10:00-10:45 AM
Friday Night Lecture: Love Without Pain | Friday, June 15 7:00-8:15 PM
Good Karma Bowl-A-Rama Fundraiser at Dream Lanes | Saturday, June 23 12:00 PM- 3:00 PM
July
Sunday Morning Series: Learning to Be Happy | Sundays July 1-22 10:00-11:30 AM
Just Meditate | Saturday, July 7 10:00-10:45 AM
Just Meditate | Saturday, July 21 10:00-10:45 AM
International Summer Festival KMC Manjushri | July 27-August 11
August
International Summer Festival KMC Manjushri | July 27-August 11
Just Meditate | Saturday, August 18 10:00-10:45 AM
Center Cherishing Day | Sunday, August 19 12:00 PM -2:00 PM
Sunday Morning Series: Learning to Be Happy | Sundays August 19-26 10:00-11:30 AM
Fall Friday Night Lecture Kick-off: Staying Calm When Things Go Wrong | Friday, August 24 7:00-8:15 PM
September
Sunday Morning Series: Learning to Be Happy | Sundays September 2-30 10:00-11:30 AM
Transforming Pain Thursday Meditation Series | Thursdays, September 6-27 7:00-8:30 PM
Just Meditate | Saturday September 8 10:00-10:45 AM
Friday Night Lecture: Responding to Rejection | Friday, September 21 7:00-8:15 PM
Center Cherishing Day | Sunday, September 23 12:00 PM -2:00 PM
Safe Inside Meditation Retreat | Saturday, September 29 9:00 AM-4:00 PM
October
What Does It Mean to Be a Buddhist | Thursdays, October 4-November 15 7:00 PM-8:30 PM
International Fall Festival KMC Portugal | October 5-11
Life is But a Dream: An Introduction to Emptiness | October 13 10:00-2:45 PM
Just Meditate | Saturday September 8 10:00-10:45 AM
Friday Night Lecture: Freedom from Fear and Anxiety | Friday, October 26 7:00-8:15 PM
Center Cherishing Day | Sunday, October 28 12:00 PM -2:00 PM
November
Midwest Dharma Celebration: Medicine for the Mind | November 2-4
What Does It Mean to Be a Buddhist | Thursdays, October 4-November 15 (No Class November 1) 7:00 PM-8:30 PM
Healing from the Heart: Taking and Giving Retreat | November 17 9:00 AM-4:00 PM
Center Cherishing Day | Sunday, November 18 12:00 PM -2:00 PM
Just Meditate | Saturday, November 24 10:00-10:45 AM
Friday Night Lecture: How to Survive the Holiday Season | Friday, November 30 7:00-8:15 PM
December
Streams of Purifying Nectar: Vajrasattva Retreat | Saturday, December 8 9:00 AM-5:00 PM
Just Meditate | Saturday, December 15 10:00-10:45 AM
Meditations for a Wise Heart | Thursdays, December 6-20  7:00 PM-8:30 PM
Center Cherishing Day | Sunday, December 16 12:00 PM -2:00 PM
Festival of Lights Christmas Eve | Monday, December 24 7:00-8:30 PM