Teachers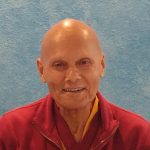 Kelsang Longku teaches Noontime Meditation on Fridays. He is a Kadampa Buddhist Monk and is a member of the residential community at KMC Madison. Longku is admired for his organized and encouraging style of guiding meditation.
Meghan Caylor teaches our Meditation for Kids Class Sunday mornings. She is part of the residential community at KMC Madison and also the Education Program Coordinator. Meghan is in elementary education in Madison schools, and has been in teaching for 12 years. She enjoys practicing and studying Kadam Dharma, and teaching kids Buddha's advice on how to increase our good qualities.
Carl Welter  teaches Noontime Meditation on Wednesdays. He is a long-time practitioner of Kadam Dharma. Carl is known for his down-to-earth style and practical approach to leading meditation.