Offering to the Spiritual Guide with Food Offering (Tsog)
This is a special Guru Yoga of Je Tsongkhapa in conjunction with Highest Yoga Tantra that is a preliminary practice for Vajrayana Mahamudra. The main practice is relying upon our Spiritual Guide as a Buddha and making praises and requests, but it also includes all the essential practices of the stages of the path and training the mind, as well as both the generation stage and completion stage of Highest Yoga Tantra. By relying upon Je Tsongkhapa our compassion, wisdom, and spiritual power naturally increase.
You may attend in person as a walk-in.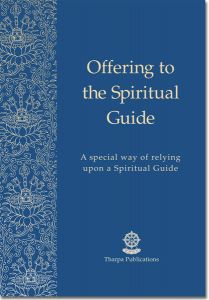 Purchasing your own copy of the sadhana for this puja is not required, but your practice will be enhanced if you can follow along.
You may purchase the Offering to the Spiritual Guide sadhana at this link.
This practice includes a food offering. Typically, people can bring a vegetarian food offering in person.
Details
Location:
Kadampa Meditation Center Madison
1825 S. Park St., Madison, WI